A few weeks ago I made a stop at my local Goodwill. I don't get there often and its pretty picked over most of the time. The store had moved into a smaller space a few years ago and doesn't have much room to look around. I am always bumping elbows with other customers, annoying. On this particular day I did nab one item that 2 people tried to steal away from me before I even got to the register! It was an old, ugly, retro owl lamp, everything I love!! My kids have both grown up in our owl inspired nursery and I just have a love for them.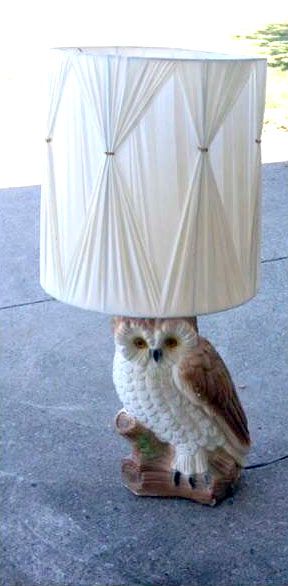 In all her original glory, (yes......her, you can't have an owl lamp with this much personality and not give it a name, Elsie) she would have looked great in a completely retro den but I wanted it to fit into my eclectic retro/modern craft room. I have about 3 styles going on in most of the rooms of my home so it isn't hard to find or make an object and add it to any space. But even this called for a touch of paint and new shade of some sort!
So I gathered my ideas:
1. Modern look of a retro piece = owl needed to be painted
2. I wanted some bold colors but maybe not the whole thing = new fabric shade
3. I wanted to make sure that if somewhere down the road I wanted to move her to a new room, I could easily add a new shade and she would fit in = neutral base color
So I began by cutting the off white disposable plastic tablecloth thingy that was tied with gold pipe cleaners. I set that aside and spray painted her glossy white. While she was drying, I gathered up my long, skinny scrap fabric piece and began tying them between each of the vertical wires. This part took the longest, like way, WAY longer than I originally thought. But in the end, it was all worth it!!
In the end I added a new The Original Vintage Style Bulb from Lowes. I thought it would look great peeking through the fabric.